Amino Acids
Tweet
Information and Benefits of Taurine Amino Acid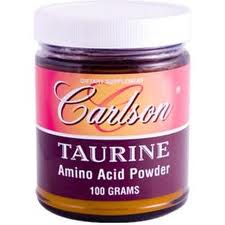 Taurine is a non-essential amino acid. It is manufactured in the body and is present in animal protein. Its synthesis occurs in the human body with the help of the amino acids methionine, cysteine, and vitamin B6. Women seem to require a higher dietary intake of taurine, since the female hormone estradiol supresses the formation of taurine in the liver.
An important function of taurine is its role as a neurotransmitter. It also maintains the correct composition of bile and the solubility of cholesterol.
Healing and Therapeutic Properties: Studies have shown that taurine' concentrations in the brain are four times more in developing brains than in adul\ ones. Trials on human beings have proved that taurine has an anticonvulsive effect. During ep,ileptic attacks, the serum levels of over half the amino acids are lowered. One gram of taurine, taken daily, followed by daily doses of not more than 500 mg, further reduced to 50­100 mg a day, is more effective than taking higher doses.
Taurine also protects the heart muscle when there is calcium and potassium loss from the body. Supplementation of taurine is said to improve IQ levels in children suffering from Down's syndrome.
Heart disorders, physical or emotional stress, metabolic disorders, high alcohol consumption, and zinc deficiency are factors that can result in high levels of taurine being excreted in the urine.
Leave your comments