Fruits & Vegetables
Tweet
Apple a Day Keeps Doctor Away: Eating Benefits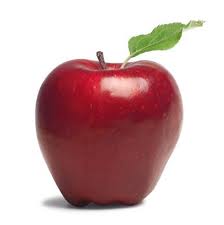 So, if you want to eat healthy, go fix yourself an apple. Happy eating!
THIS fruit is so tempting, no wonder it proved to be Adam and Eve's undoing. Juicy and crunchy, apples are a preferred option for many who skip meals or for those who want to eat healthy.
And, for good reason!
Show your doctor the door
If your daily diet includes apples, you'll fall ill less frequently. This small fruit packs a whopping mix of 250 trace chemicals contained in the fruit, such as volatile esters, alcohols, and aldehydes. These chemicals are responsible for the tang and the aroma of the fruit. Scientists contend that the aroma of spiced apples has a calming effect on many people, thus lowering the blood pressure.
Apples are highly acidic, but not harmfully so. Acids in the apple comprise 90 per cent malic acid and 10 per cent citric acid. The sweetness of this crispy fruit comes from sucrose arid fructose, both of which are natural sugars. Since natural sugars are not harmful for the body, apples are good for
diabetics, when you need to keep a check on your blood sugar levels.
This fruit is also an excellent source of pectin, a fibre that helps reduce blood cholesterol and possibly prevents cancer. One medium-sized apple provides five grams of dietary fibre, or 20 per cent of the recommended intake of fibre. If these numbers aren't enough to convince you of the benefits of eating apples, you might want to consider these facts:
Ripe apples contain 80 per cent water and are virtually fat free.
Apples contain important minerals, notably potassium, which is needed for regulation of water balance and muscle function.
One apple equals one portion of the five fruit and vegetables required for daily intake.
Apples contain 8-14 per cent natural fruit sugar that gets converted to energy.
This fruit has low sodium content.
APPLE - Nutrition Facts (Amount per 100g)
Calories
59
Total Fat
0 g
Cholesterol
0 mg
Sodium
0 mg
Total Carbohydrate
15 g
Dietary Fiber
3 g
Protein
0 g
Vitamin A
53 IU
Vitamin C
6 mg
Calcium
7 mg
Iron
Small amounts
Why apples pack a punch?
One medium-sized apple (approximately 5 ounces in weight) has just 81 calories, making you feel fuller than equivalent carbohydrate calories from apple juice or apple puree. Its nutrients are packed with 159 mg of potassium, 3.9 mcg of folic acid, 7.9 mg of vitamin C, and 9.6 mg of calcium with trace amounts of B vitamins, iron, magnesium, and zinc.
A single apple contains no fat or cholesterol, and provides more fibre than a serving of oatmeal. So, if you're thinking of skipping meals, try munching apples. You can rest assured you're getting a healthy
dose of essential nutrients.
Store that fruit well!
Unlike other fruits, the best place to store apples is the refrigerator. Also, sliced or cut apples stay white longer if dropped in a bowl of water containing two tablespoons of lemon juice.
Eat the apple skin as well
Unpeeled apples provide their most plentiful nutrients just under the skin, so be sure to eat the apple with its skin on. As such, apples can be used in a variety of jams, sauces, cakes and pies, but if you're creative enough, you could marry this wonderful fruit with many more foods. And, you won't regret it.
So, go fast, and take a bite!
Leave your comments