Fruits & Vegetables
Tweet
Fruit Salad
Since fruit salad is a diet of fruits, it has all the benefits of fruits. And the benefits of fruits have been repeated ad nauseam.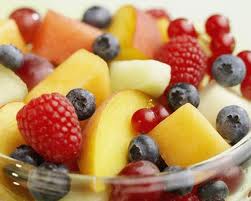 But to remind our selves again, this is what Theresa Hill, the coordinator for the Division of Obesity Prevention and Control, part of South Carolina Department of Health and Environmental Control, said about nutrients density of fruits," Fruits are nutrients dense foods. They provide a substantial amount of vitamins and minerals with relatively few calories."
Fruits salads can be taken as an in-between meal or together with your breakfast. Fruits help digestion because they are rich in fiber, which you need to keep a healthy digestive system.
Amongst the vitamins and mineral that fruit salad gives are:
Vitamin A
Vitamin C
Folate
Fiber
Potassium
Flavonoids: anthocyanins and quercetin
It is also a great source of inositol, which is part of vitamin B complex.
All the above are low in a typical American diet.
Fruit salads have natural sugars
The difference between fruit sugar and processed sugar though not clear to some people , is simple: fruits have natural sugars and nutrient-dense while added sugar in processed food is calorie dense.
Fighter of diseases
The diseases that fruits salad helps prevent or fights are:
Obesity
high blood pressure
joint inflammatin
Some cancers
allergies
heart disease
stroke
type 2 diabetes and so on and so on.
Should fruit salads have recipes?
Fruit salads are as diverse as there are many fruits. Some, like diabetic fruit salad are addressed to some specific illnesses.
But some people feel fruit salads have no recipes. This may be true because you can always toss your favorite fruits together and behold you have a fruit salad!
But below we have a few guides, which you are free to tweak and come up with your own recipe. And with so many options, added with your own dose of creativity, that shouldn't be a problem.
You can freeze your fruit salad;
You can top it up with cream or;
Just have it plain! The choice is yours.
Just look for fresh fruits bursting with the promise of antioxidant and vitamins and before you know what's happening, ideas will rush to your head like bees to nectar.
Fruit Salad Recipes
Fresh Fruit Salad
You need:
Chopped strawberries
Grapes
Peaches
Bananas
Pineapple juice
Limejuice
Direction: Peel your peaches, bananas, strawberries and grapes then slice them.
For dressing, add 1/2 cup of pineapple juice and limejuice.
Another variation of the above is to chop your favorite fruits and put them in a serving bowl. Mix orange juice with vanilla pudding and cook. When the mixture thickens, pour it over the fruit chops. This is good for a small dinner party at home.
Frozen Fruit Salad
Your frozen fruit salad needs to be prepared the day before you or your guests will devour it.
Things you need:
Fresh fruits
Cream cheese
Mayonnaise
Marsh mallows and
Chopped cherries
Direction: Beat cream cheese and mayonnaise and fold in whipped cream. Add the chopped fruits and marsh mallows. Garnish with cherries. Pour in to a container and freeze to a point of firmness.
Another variation to the above frozen fruit salad is to make it with different fruit juices.
Mix lemonade and orange juice, pour over chopped bananas and strawberries. Add sugar (to taste). Then pour into a pan and freeze.
You can also boil sugar to form syrup. Allow the syrup to cool. Then combine your chopped fruit with the syrup. Put into cupcake liners then put in the freezer until firm.
And yet another variation is to use gelatin to give you a yummy fruit salad. This salad will be very smooth because of the heavy cream and juice used.
Boil water and sugar then add gelatin and wait until it dissolves. Fold the beaten cream cheese and mayonnaise into the gelatin mixture to form soft cream peaks. Add your fruit chops. Put in the freezing containers.
If you like, you can cut it into squares when frozen.
Fruit Salad Dressings
Various fruit salad dressings are available. These add spice and variety to your fruit salad.
You can choose crunchy dressing, yummy, tangy, sour or sweet dressing. Or combine everything!
You can make your dressing from low calorie yogurt, honey and skim milk cottage cheese.
With some fruits it is better to use tasty dressing from sour cream, pineapple juice, honey, lemon juice and sugar. Combine them together. Make smooth and serve with fresh fruit.
Or you can cook tasty dressing with sugar flour, lemon juice, eggs, butter and pineapple juice.
Fold in whipped cream when cool. You can serve this with fresh fruit for dessert.
Fruits and What They Give
Just a handful of pomegranates besides giving vital antioxidants, can also keep your cardiovascular system healthy.
Fruits such as strawberries and raspberries provide good cardiac protection
And as mentioned before, the fiber in fruits help your digestion.
So why don't you go to the kitchen and put together a recipe of your own?
Leave your comments