Fruits & Vegetables
Tweet
Grapefruit Diet Exercise Plan and Juice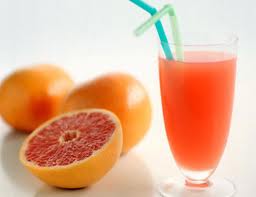 If ever there were a lot of controversy and opinions about a diet, this one seems to take the prize.This diet has also been called The Mayo Diet Plan (not the same thing as the rather new Mayo Clinic Plan). But before this diet plan is totally removed from the list of that which is sane, perhaps it may have some good qualities. 
The approach that this article will take is to simply present what is known about the diet, its contents, and then some facts, and let you draw your own conclusions.
The Premise Behind The Grapefruit Diet Plan
The actual diet is tough to nail down, since there are more than 20 different ones.  Apparently, the first grapefruit diet plan can be traced back to the 1930's.  Since that time, it has been altered many times, until, it seems, many people just want to incorporate some of it into their own plans - because of the fact that it is well known. Or, maybe because someone still believes that grapefruit still has a "fat burner" in it somewhere.
The basic premise behind the grapefruit diet plan is that grapefruit has some ability to "burn fat." Therefore, the more grapefruit you eat, the diet implies, or the more grapefruit juice you drink, then the fatter you will burn. This is something that medical experts now deny, as there is no proof of this. 
The Promise of The Grapefruit Diet Plan
Somewhere along the line, one version of the diet promised that the dieter who followed this plan could lose 52 pounds in about two-and-a-half months. That's also quite an attractive promise for someone who may want to lose weight - real fast. Whether or not they like grapefruits, or grapefruit juice, may not even enter in to the mind.
The Program of The Grapefruit Diet Plan
One of the more popular plans provides a way to lose weight quickly, but was never intended to be continued over a long term.  The grapefruit diet plan called for the diet to be followed for a few days – up to three weeks. As a way to lose weight rapidly, which then will be followed by a more realistic diet, it is good.
Several features of the diet include:
Drink 8 glasses of water per day.
Eat until you are full at mealtime, but nothing in between.
Eat prescribed grapefruit or grapefruit juice.
Limit coffee to one cup per day.
No desserts, or breads.
Eat as much meat, vegetables, or salad as you want.
The Real Potential of The Grapefruit Diet Plan
A little more than a year ago, in San Diego, California, the Scripps Clinic, did some research on grapefruit in the diet?  Two test groups either ate grapefruit, or drank grapefruit juice at every meal.  There was also another group that served as a control.  The test groups were not permitted to alter their diet in any way - except to add the grapefruit.
The conclusion of this study (which was funded by the Florida Citrus Association), did find a little higher weight loss in the test groups than in the control group. But the one thing that really stood out was the fact that the test groups had lower insulin levels. This is good, and demonstrated - but it needs to be backed up by more research before anything conclusive can be said.
Some Pros And Cons of The Grapefruit Diet Plan
Pros:
The grapefruit diet plan:
Is rich in vitamin C, and beta carotene
Contains antioxidants
Helps reduce insulin levels
Is simple.
Is relatively cheap
Cons:
Has a shortage of calories
Original plan had no exercise new plan recommends it.
Not vegetarian friendly – unless you take supplements.
Does not teach self-control.
So, after presenting some information about the grapefruit diet plan, it is my hope that you will draw your own conclusions about whether or not you want to participate in the program.  There are many plans available on the Internet to follow, and grapefruits, or grapefruit juice is easily obtainable.  You may also vary the program by looking for a grapefruit juice diet plan, or you may want to add grapefruit capsules instead.
Leave your comments