Minerals
Tweet
Boron Information - Deficiency, Benefits, Food Sources & Side Effects
Boron was considered to be an essential mineral for plants as far back as 1910. Its exact role in human nutrition is not well documented.
Boron is a non-metallic element. In the body, it is found only in combination with other chemicals. Most of the intake of boron through the diet is absorbed from the intestine. It is excreted in the urine.
Recommended Daily Allowance - Boron
In Average Diet
2 mg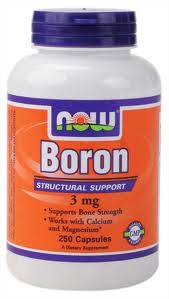 Boron Uses & Benefits - Functions in the Body
Boron helps to regulate the body's use of calcium, phosphorus, and magnesium. During experiments at Rutger's University, it was discovered that the main task of this mineral was to control cell growth. It thus helps to prevent abnormalities in growth.
Boron Sources
Fruits and vegetables, especially apples, pears, and carrots are good food sources of boron.
Boron Deficiency Symptoms
A severe deficiency of boron within the body may be partially responsible for tumours, cysts, and other abnormal growths.
Boron Side Effects - Precautions
A daily intake of over 100 mg of boron can produce toxic symptoms. Boric acid was formerly used as a food preservative, but has been declared unsafe as a food additive by the FAO/WHO Expert Committee.
Leave your comments