Minerals
Tweet
Copper - Converts Iron into Haemoglobin
Information on Deficiency, Benefits, Food Sources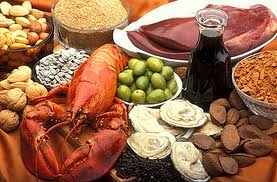 The first conclusive evidence to show that copper was an essential element for the formation of haemoglobin in rats suffering from iron deficiency anaemia, emerged from the studies of E. B. Hart and his co-workers in 1928.
There is approximately 75 to 150 mg of copper in the adult human body. Newborn infants have higher concentrations of copper than adults. The liver, brain, kidneys, heart, and hair contain relatively high concentrations. The average serum copper levels are higher in adult females than in males. The serum copper levels also increase significantly in women during pregnancy and when taking oral contraceptives.
In the human body, copper is a constituent of several enzymes and is found in combination with several proteins in the blood.
Ceruloplasmin, a copper-containing plasma enzyme, catalyses the oxidation of the ferrous ion to ferric ion, and thereby enables iron to be trapped by transferrin (a protein transporting iron in the blood). It is then transported to tissues for the synthesis of iron-containing compounds, especially haemoglobin.
Copper Absorption: Copper is mostly absorbed at the level of the duodenum in the intestine. Approximately 32 per cent of the copper in the diet is absorbed. Excess copper is excreted in the bile.
Recommended Daily Allowance - Copper
Men
2 mg
Women
2 mg
Children
0.05 - 0.1 mg
Copper Benefits - Functions in the Body
Copper helps the conversion of iron into haemoglobin. It stimulates the growth of red blood cells. It is also an integral part of certain digestive enzymes. It makes the amino acid - tyrosine - usable, enabling it to work as the pigmenting factor for the hair and skin. It is also essential for the utilisation of vitamin C.
Copper Rich Food Sources
Molluscs and shellfish are rich sources of copper, as are betel leaves, arecanuts and other nuts. Soft water contains more copper than hard water and water from the tap contains more copper than reservoir water. However, the latter is a better source of copper than water taken directly from the stream.
Copper Deficiency Symptoms
Copper deficiency may result in weakness of the body, digestive disturbances, and impaired respiration. Anaemia due to copper deficiency has not been reported in adults. All medicinal iron preparations contain traces of copper. Infants, especially those who are born premature, may develop copper deficiency, which usually presents itself as chronic diarrhoea, and later develops into anaemia which does not respond to iron. Copper deficiency has been reported in protein energy malnutrition.
Related:
Leave your comments