Amino Acids
Tweet
Valine - Prevents Nervous Disorders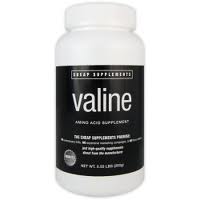 Valine is an essential amino acid which is considered important for body growth. It is needed for the proper performance of the nervous system; an adequate intake prevents nervous and digestive disorders.
Recommended Daily Allowance - Valine
Men
14 mg
Women
14 mg
Children
25 mg
Infants
89 mg
Valine Benefits - Functions in the Body
W. Borrman, a nutrition researcher, describes valine as helpful in disorders of the muscles, mental and emotional upsets', insomnia, and nervousness. Valine intake as a part of the amino-acid combination of phenylalanine-valine-methionine-tryptophan in the ratio of 3:2:2:1, taken in 4 g doses prior to meals, results in decreased food intake in 50 per cent of obese women.
Valine Food Sources
The main food sources of valine are leafy vegetables, finger millet, rice and other cereals, kidney beans and other legumes and pulses, piyal seeds, pistachio and cashew nuts, and peaches. Poultry and milk contain a large amount of valine.
Valine Deficiency Symptoms
The lack of valine makes a person sensitive to touch and sound.
Valine Side Effects - Precautions
Excess of valine leads to symptoms such as hallucinations and a sensation of insects crawling over the skin.
Leave your comments