Tweet
Sign of Eating Disorder is Prominent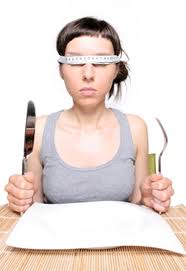 Signs of problems should be carefully investigated before a dialogue is opened as most teenagers will take the approach of the subject as a reason to flee from the conversation. If you've done a lot of observing and you are certain that an eating disorder is part of the problem, you should persist in having that conversation.
If you have not yet carefully evaluated the facts, opening the conversation can be a mistake because then the person in question will most likely modify their behavior to 'prove' to you that there is no problem. Usually this doesn't involve changing habits; usually it involves hiding a sign of eating disorders more thoroughly.
Signs to Look out for
An early sign of eating disorder would generally have less to do with behavior with food than behavior towards food. For most teenage girls, the first step toward developing an eating disorder is a poor attitude toward food in general. If your child is embarrassed to eat in front of other people, for instance, or embarrassed to eat certain foods (ice cream, pizza, and other notably fattening things) in front of people outside your family, you should open a dialogue about attitudes toward food.
Developing a healthy attitude toward food throughout childhood is important; the most important is nurturing it through the difficult years of adolescence. New views on food and eating are certain to develop during adolescence, but these changes should not be too prevalent. An extreme change in attitudes toward food is one of the first sign of eating disorder.
As an eating disorder develops, the signs of it change. Many young people progress from this negative attitude toward food and eating to an ambivalent attitude toward food and eating. Nothing gets a reaction in this stage because food is alien. This can often be a sign of eating disorder. At this stage, anorexic people tend to ignore food entirely, leaving a room where food is being served and avoiding the topic entirely. Bulimic people tend to act a little bit like anorexic people in public, and then go home and pig out.
In addition to attitudes toward food, you should watch for extreme changes in weight and extreme changes in energy levels and tiredness. Anorexics tend to show a lot of physical signs of their illness, including dark circles under the eyes, poor skin tone, poor hair luster or even loss of hair, yellowing of nails and general sickliness. Since they don't get vitamins through eating, their immune systems become weak. Another telltale sign of eating disorder is fainting. Be on the lookout, but treat the subject like the delicate one that it is when bringing it up in conversation.
There are many people on the globe suffering from eating disorder. This disorder must not be ignored. It must be attended and that too urgently. You need help when you are undergoing an eating disorder. Thus you must not be reluctant to ask for help. In case you suspect that you have an eating disorder it is wise for you to get eating disorder help by seeking out professional help since eating disorders imply some serious psychological as well as medical conditions that require intervention of a medical professional.
It is not necessary for a person who has an eating disorder symptom to appear as being underweight or even appear to have average weight in order to be diagnosed as suffering from signs and symptoms of the eating disorder. There are many instances of men and women in the world today that do not appear to be underweight and this certainly does not mean that they are any less in danger of the effects of eating disorders.
The most important thing or an activity is eating. In life, you need to eat to carry on with your daily activities. All your metabolic functions depend on eating. Thus doctors always advice to eat properly. You must eat nutritious food. The food eaten must be hygienic and good for health.
Eating disorders are of two types. One when you eat more and the other when you eat less. There are many causes to eating disorders such as: self-esteem, wanting to fit in a group or team, stress, to desire to stand out in a way or the other and so on. Eating disorders are both, when you over eat or when you starve yourself. Both these things are unhealthy.
Leave your comments