Tweet
Tibetan Goji Berries: Elixir of Youth and Good Health
Always check with your doctor always before you experiment with any new type of health drink or supplement. Goji berries have many nutritious components that is good for health and extends life span but it also has certain ingredients that interfere with anti coagulant and pose side effects.
The knowledge that including a small amount of Goji berries in regular diet not only extends the life span to more than double but also keeps up the excellent health, has indeed created a great deal of interest and curiosity in the global market regarding this tiny red fruit. Just to mitigate some of this curiosity, here are some facts.
What are Tibetan Goji berries?
The Tibetan goji berries come from an ever green plant that is naturally habituated and grown in Tibet, China and Mongolia. This plant breed belongs to Solonaceae family.
The Tibetan goji berries are available in market mainly in two forms, both are highly beneficial for the health: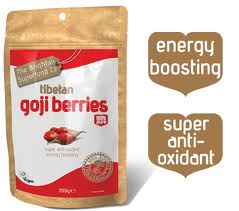 Apart from these, the other form in which these berries may be consumed is through tea, in soups or liquid extracts. The main ingredients of the Tibetan goji berries are the beta-carotene, carotenoids and zeaxanthin which are the best natural anti-oxidants.
It should be known that the goji berries and the wolfberries are very similar in appearance and certain properties and quite often the goji berries are mistaken as wolfberries. However, on close inspection you will find that the goji berry is sweet and tasty, while the wolfberry is slightly bitter in taste. The properties are similar though, but the fruis and benefits do not match.
The goji berries are known to extend longevity to an unbelievable extent. The zeaxanthin that is an active ingredient in the Tibetan goji berries prevents age-related macular degeneration.
What do the Research Studies Say?
Researches show that the goji berries prove beneficial in controlling the spread of cancer by inhibiting the cell reproduction. It also helps in reducing blood sugar and cholesterol levels.
However care should be taken while taking the supplement of the goji berry because these may have ingredients that interfere with anti-coagulant drugs and incase you are using any anti-coagulants, there might be unfavorable side effects. It is advisable to consult a doctor before taking this supplement.
Leave your comments