Tweet
What to Expect During Second Half of Atkins Low Carb Diet Program
Are you learning about the Atkins Diet? Or studying low carbohydrate diet plans? You may already know that these programs are focused on "Phases". Each phase has a specific intent. The first phase is designed for begin a rapid fat loss stage. The next phase is when the dieter builds up a natural limit for carbohydrates relative to an appropriate weight loss goal.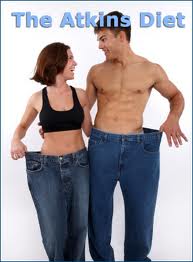 This happens quickly. The first two phases most often take about four weeks, sometimes longer depending on the person and the body type. Today we will discuss what happens in the second half of the Atkins diet plan to give you an idea of what you can expect.
Starting with the first two phases, the patient has moved from the initial rapid weight loss into the phase of determining how many carbohydrates he/she can consome and continue to lose weight. An acceptable amount of carbohydrates for most people is about 40 to 60 grams. The next phase is a little different.
Dr. Atkins refers to Phase Three as the 'Pre-Maintenance" phase.  At this time the patient is more comfortable and familiar with which foods can be eaten and which need to be avoided. You begin to add 10 grams of carbs per day for each day of the week. Pay attention to be certain you are still losing weight. The next week you may add another 10 grams per day every day, still paying attention to weight loss.  When the loss of weight stops, it is time to decrease the daily carbohydrate intake by up to 10 grams until you begin to lose weight again.
Phase Four is called the "Lifetime Maintenance Phase". By this time you have achieved your ideal weight and have a wider selection of foods you can eat. You still need to watch your carbohydrate intake and maintain an active lifestyle. You are likely to be able to eat up to 100 grams of carbs each day without gaining weight.
Once you reach the final phase of the Atkins plan, you have learned what kinds of food you can eat and how many carbohydrates you can eat and still keep a healthy weight. At the same time you can enjoy the benefits of eating healthy.
Hope this article provide you about the information of atkins low curb diet program.
Leave your comments