Fruits & Vegetables
Tweet
BEL Fruit Benefits

Bel is a native of India. From time immemorial it has been regarded as a medicinal herb. It is round in shape and resembles a wood-apple. It is of the normal ball-size. It is sweet in taste. It contains a lot of seeds.
Benefits of Bel Fruit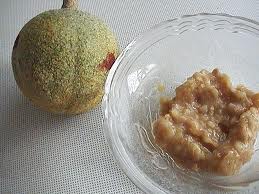 Bel is sweet, light, digestive, a kindler of gastric fire and slightly constipating. It destroys intestinal worms, stops nausea, vomitting and relieves cramps of stomach-muscles. In fact, the Ayurveda considers it a remedy for the three systemic disturbances viz. cough, wind and bile.
The pulp of the ripe bel may be taken directly or it may be taken in its juice-form. The medicinal value of bel is principally dependent upon the tannin it contains. In digestive disorders and chronic dysentery, bel is regarded as an invaluable remedy. As a remedy for bowel complaints, diarrhoea and chronic dysentery, the juice of bel fruit has no equal.
Bel fruit is nutritious and a blood-purifier. 50 mg. of the juice of bel fruit mixed with warm water and sugar, two-three times a day helps to eradicate blood-impurities.
Leave your comments