Fruits & Vegetables
Tweet
Peaches Cream and Health Benefits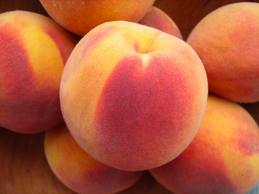 Peaches are delicious, attractive fruits with velvety red and yellow skin. The originated in China, and were brought to the West by Alexander the Great and the Romans. The Spaniards brought them to the Americas during the 16th century. Peaches have a place in Chinese legends as being fruits which bestow immortality. The peach is related to other stone fruits such as apricots, almonds, plums and cherries.
Varieties of Peaches
Numerous varieties of peaches are grown. They are commonly categorized according the way the flesh of the fruit is attached to its pit. One of the varieties, the clingstone peach, has flesh that clings firmly to the pit. Another type, the freestone peach, allows the pit to separate easily from the fruit. There are newer varieties of peaches available in the market today, also, such as a peach with a creamy white flesh and a variety called a Donut peach, which is short and rather flattened.
Availability and Storage of Peaches
The peak peach season usually runs from June to September.
The best peaches are those which are aromatic, slightly soft or semi-firm, and are red and yellow with velvety skin. Peaches that are very hard or have a green hue will not ripen, and should be avoided. Ripe peaches should be used as soon as possible, or stored for three to four days at room temperature. If they are stored in the refrigerator, then it is all the better. Peaches should be washed only before they are served, in order to preserve the integrity for as long as possible.
Health Benefits of Peaches
Peaches are low in calories, and are a good source of healthy carbohydrates. Carbohydrates are known to be a vital source of energy to the body. They are very important nutrients. Therefore, peaches contribute to a well-balanced diet. Peaches also contain phytonutrients, antioxidants, carotenoids and flavonoids.
Phytonutrients: These play an important role in the key to human health. Research has proven that phytonutrients may help to reduce the risk of chronic diseases such as heart disease, cancer, arthritis and eye ailments.
Antioxidants: Antioxidants help to prevent damage to cells caused by oxidation and free radicals. They are also believed to stimulate the immune system. These also have the ability to provide health benefits, which includes protection against cancer, various heart diseases, and diseases which are associated with aging.
Carotenoids: Carotenoids play a major role in eye health. Substances in them act as filters, and shield the eyes from sunlight. This helps to protect against age-related eye disorders such as cataracts.
Flavonoids: Flavonoids have been proven to protect against heart disease and cancer.
Leave your comments