Fruits & Vegetables
Tweet
Cabbage Diet: Benefits, Uses and More
Cabbage is considered as a leafy vegetable. It grows in abundance in winter.
Benefits, Qualities and Uses of cabbage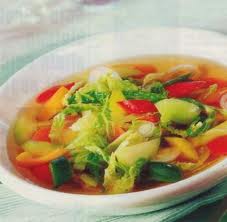 Cabbage is delicious, vitalizing, pungent, bitter, cool, digestive and light. It kindles gastric fire and is good for the heart. To some extent it produces windiness. It is useful in cough, bile, leucoderma, coughingand impurities of the blood.
One of the reasons for which cabbage is esteemed is its ascorbic acid (vitamin C) content. Nearly one-third of the day's allowance of vitamin C may be secured from only one cup of raw chopped cabbage.
Raw cabbage is used in a salad and is also used as a cooked vegetable. But its medicinal benefit can be acquired only when taken in juice-form.
The outer green leaves of the cabbage are excellent source of vitamin A. The inner white leaves are devoid of it. Hence the outer leaves should not be thrown away. The percentage of iron is also higher in the outer green leaves.
CABBAGE - Nutrition Facts (Amount per 100g)
Calories
25
Total Fat
0 g
Cholesterol
0 mg
Sodium
18 mg
Total Carbohydrate
5 g
Dietary Fiber
2 g
Protein
1 g
Vitamin A
133 IU
Vitamin C
32 mg
Calcium
47 mg
Iron
1 mg
Cooking Cabbage
In cooking cabbage, every attempt should be made to keep the cooking time at a minimum. Excessive heat treatment of cabbage is destructive to its vitamin B and vitamin C contents. Under no circumstances should the water, in which the cabbage is boiled, be thrown away. It contains many nutrients such as vitamin C, calcium, iron, phosphorus and magnesium.
As cabbage furnishes sufficient assimilable iron, it is also very useful in the treatment of anaemia.
Cabbage is found very effective in conditions such as arthritis, neurasthenia, pyorrhoea, indigestion, anaemia, defective vision and obesity.
Leave your comments