Fruits & Vegetables
Tweet
Bitter and Big Melon
Melon-juice is very beneficial in acute eczema.
Melon is either round or oval in shape. A river-bank with sandy soil is suitable for its growth. Melon with white flesh is known as musk-melon and it is extremely sweet, while melon with green and orange flesh is known as water-melon. It is not as sweet as musk-melon. Both the melons belong to the same genus.
Benefits, Qualities and Uses of Melon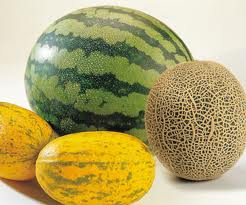 Melon is cool and diuretic. It quenches thirst. It gives a welcome cooling and soothing effect during the days of scorching heat.
As it contains predigested sugar, it provides prompt nourishment.
Melon is mostly composed of water and it contains a little or no fibres. It can, therefore, be taken either directly or in its juice-form.
As melon has a cooling property, it soothes burning sensation in the stomach. Its mineral contents eliminate acidity from the body. It also has a property for curing constipation.
The pulp of the fruit (melon) is a powerful diuretic and relieves kidney diseases. It is also very beneficial in chronic and acute eczema.
As melon-juice promotes cough, one who suffers from asthma and cold should use it discreetly, or use it by making it slightly warm.
Leave your comments