Fruits & Vegetables
Tweet
Pineapples
The pineapple is believed to be a native of Brazil and was introduced in Europe by Columbus. Afterwards it spread everywhere. The pineapples grown in Burma, Malaysia and the Philippine Islands are considered to be of excellent quality.
Benefits, Qualities and Uses of pineapples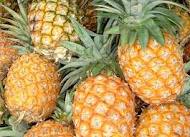 The Ayurveda has brought to light many of the properties of pineapple. The ripe pineapple is a diuretic. It destroys intestinal worms and soothes bile. It is delicious and digestive. It expels gas. It is beneficial to the heart and effective in abdominal disorders, jaundice and anaemia.
The pineapple contains an enzyme called "brosmelin" which resembles pepsin and therefore helps to digest food. It gives relief in digestive disorders.
The pineapple should not be taken on an empty stomach. The upper rind and the innermost flesh of the pineapple should be discarded. The remaining portion should be cut into pieces. Juice should be extracted from these pieces. Raw pineapple or excessively ripe pineapple should be avoided during pregnancy.
PINEAPPLE - Nutrition Facts (Amount per 100g)
Calories
49
Total Fat
0 g
Cholesterol
0 mg
Sodium
1 mg
Total Carbohydrate
12 g
Dietary Fiber
1 g
Protein
0 g
Vitamin A
23 IU
Vitamin C
15 mg
Calcium
7 mg
Fresh pineapple juice exercises a soothing effect on the throat. It is very useful in preventing affections of the vocal organ. In diphtheria it is used for removing the dead membranes from the throat. Pineapple juice relieves bile, destroys intestinal worms and is beneficial to the heart.
Chlorine contained in the pinapple juice stimulates the activity of the kidneys and helps to remove toxic elements and waste products from the body. It also gives relief in cellulitis.
Leave your comments