Fruits & Vegetables
Tweet
Onions: Benefits and Uses

The onion has been cultivated since the dawn of human history. There are two varieties of onion- white and red.
Benefits, Qualities and Uses of onions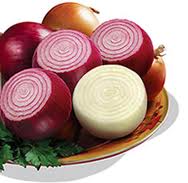 Vigour, lustre of the body and mental power increase with the use of onions. From medical point of view, white onions are more useful. White onions are stimulant, vitalizing, pungent, promoters of virility, heavy, refreshing, stimulative of gastric fire and lubricous. They produce cough. They increase strength and induce sleep. They are a remedy for tuberculosis, cardiac troubles, dyspepsia, leprosy, piles, swelling and blood impurities.
The onion loses its vitamin C content when preserved for a long time.
The onion has effective germicidal properties. On account of its content of a volatile oil, the onion is very useful in respiratory disorders.
Onions are widely used in salads. But to get the maximum benefit of the onion, one should take two or three teaspoonfuls of onion-juice mixed with honey. White onions should be preferred for medicinal uses.
In virile disorders, one should take onion-juice with honey daily in the morning for two to three weeks. This will increase one's virility. The onion saves one from sunstroke. If one suffers from sunstroke, the onion relieves it. Eating onion in the morning and at bed-time is beneficial in jaundice.
It is interesting to note that during the plague-epidemic in London, when the contagion spread everywhere, the owners of onion and garlic shops were the only persons who proved immune to the disease.
It has been proved that onion-juice is a very effective vermifuge (substance which kills worms). Unlike many vermifuges, onion-juice is more harmless and free from side-effects.
The onion dislodges mucous and prevents its fresh formation. The onion is beneficial to the aged. The onion is also beneficial in intestinal disorders. The use of onions stimulates the process of peristalsis (contraction and expansion) of the intestines and removes intestinal putrefaction and flatulence. It is also useful in indigestion and biliousness.
The juice of the onion together with sugar is a capital remedy for bleeding piles.
Leave your comments