Tweet
iForce Nutrition HEMAVOL: Is It Worth Trying And If So, Why?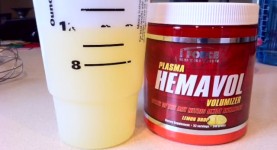 iForce Nutrition HEMAVOL is a pre workout supplement.  Stimulant free, it is great for keeping individuals ripped by increasing muscle size. The supplement's two key elements, the Hemodynamic Matrix and the Vasodilation Support Matrix function specifically to support plasma volumnization via nitric oxide.
The Hemodynamic Matrix:
The Hemodynamic Matrix found in iForce Nutrition HEMAVOL is scientifically formulated to force intercellular plasma, glycogen, and H20 into an individual's muscle cells, thus generating a cell volumnizining pump that works wonders for maintaining strength and endurance.
The Vasodilation Support Matrix: 
The Vasodilation Support Matrix is a combination of compounds that directly aids and increases the effects of the Hemodynamic Matrix.  Vasodilation is the effect of widening the blood vessels so that a person gets increased blood flow through the veins and into the muscles.  This improves pumps and delivers necessary nutrients. 
What Are The Benefits Of iForce Nutrition HEMAVOL?
Cellular Volumnization – After just one dose of this product there will be a clear indication of abrupt muscle volumnization in muscle cells.  The rapid growth creates massive muscle pumps, which last longer than most other muscle supplements on the market. 
Improving Strength – The great thing about this supplement is that after using it for the first time, its Hemodynamic technological system enables an individual's body to eliminate unwanted toxins in the body such as lactic acid.  This will help in gaining strength and endurance and you will actually start to feel the burn as it works.
Nutrient Transportation – When taking iForce Nutrition HEMAVOL you may begin to notice your veins popping out.  This is considered an effect of Vasodilation and occurs when nutrients, water, and oxygen are forced into the muscle cells from the increase of blood flow.  It is nothing to worry about, it simply means that your veins are doing an awesome job in providing your muscle cells with all of the crucial nutrients that they need.
Greater Mental Focus – Another perk to using this product in place of other supplements is that since it contains no synthetic stimulants, it makes mental focus easier, also enabling it to last longer. 
Tastes Great- Unlike other pre-workout supplements on the market that can have a bland or horrible taste, iForce Nutrition HEMAVOL actually tastes pretty good.  In fact, many have complimented the product's tasty lemon flavor and can't wait until their next dose.
Leave your comments